Specialty Shades
Shade Solutions for Every Area
Today's architectural options allow any homeowner to express their originality and style with uniquely-shaped windows. Obtaining attractive, functional treatments for these windows can be difficult, but fortunately ZBlinds offers numerous solutions for specialty shapes.
From eyebrows to arches to pentagons, whatever your window shape, rest assured ZBlinds can help you enhance it with a blind or pattern that suits your unique décor.
Skylights? No problem. Our track-mounted Balcony shading system can be used vertically, horizontally – even on angles, such as with skylights – providing maximum light control, beauty and versatility.
Specialty Shapes
Eyebrow Blinds
Arch Shade
Balcony Shades
MechoShade Skylight
Timberline Specialty Shapes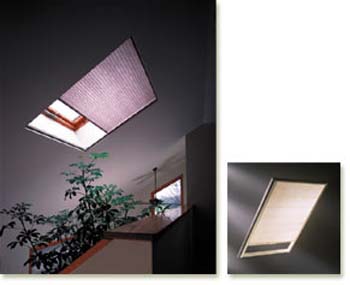 Balcony Shades
Balcony shades look great from any angle. Mounted on a unique track system, Balcony shades can be used vertically, horizontally and even on angles (like skylights) for maximum versatility. Balcony shades featuring Perfect Pitch fabrics are energy efficient. Balcony's side rail provides increased support and smooth operation, and also forms a barrier around the edge of the shades, greatly enhancing insulation values. Balcony shades are child safe with no exposed cords. Z Blinds Co. Decorator will custom measure your window and quote a price for this product.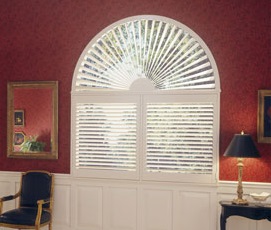 Arch Shade
Classic beauty and practical function, our Starburst Movable Arch is fully operable in a perfect half circle and can also be ordered stationary to custom fit the most unique of arch dimensions. Always a study in drama, a Starburst Arch will add refinement to that entry way or palladium. A Z Blinds Co. decorator will custom measure your window and quote a price for this product.
Eyebrow Sunburst & Horizontal
Eyebrow Sunburst: Wood frame has a decorative routed edge with slats fixed in place in a closed flat position. The slats cannot be moved or rotated. Unique to Signature Arch is the proportional eyebrow shaped hub, which is unlike all other competitors, which use a half circle hub made of thin plastic.
Eyebrow Horizontal: Slats fixed in place, set at a 60-degree angle to block direct sunlight. Valance hides the mounting screws and lets you align the arch with nearby windows. The horizontal arch creates the look of the blind going up into the arch. Braided ladder for support 48″ or wider.
Schedule Your Free In-Home Consultation