FREE In-Home Consultation
Call 559-497-9000 or use the Contact Form below for a FREE In-home Consultation.
Retractable Screen Systems
Are retractable screen doors right for your home? Yes! Whether your home is a condo, single family home, apartment, duplex, there is a custom Retractable Screen Door PERFECT for your home. Let the breeze in, but keep the bugs out… Let your home BREATHE, and feel soothed by fresh air… -But, make the retractable screen disappear when you want to see the view!! Mirage Retractable Screens Mirage features a wide array of design and engineering options that allow homeowners to customize Mirage retractable screens to their lifestyles. From child-friendly adjustments to screen closing speeds to durable screen mesh options designed with frisky puppies in mind, to easy-grip clasps for seniors, to corrosion resistant hardware perfect for beach lovers, to a broader palette of stylish colors added for the most style-conscious homes, and more. • Hideaway window screens when they are not in use! • Keep insects out, but let the breeze in! • Lower energy costs with naturally cooling cross-ventilation! Ask our Design Consultant for more details.
Manufactured By: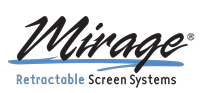 One per customer. Must present special to the Z Blinds representative to receive savings. Not valid with any other offers.
Offer ends March 31, 2018.