FREE In-Home Consultation
Call 559-497-9000 or use the Contact Form below for a FREE In-home Consultation.
Jordan Taylor 3″ Wood Blinds – FREE Cornice Upgrade
There's nothing like the rich, natural beauty of wood to add warmth, character and simple elegance to any room. ZBlinds offers a large variety of handcrafted wood horizontal blinds which not only look attractive but help moderate the temperature in the room by keeping it cooler in summer and warmer in winter! Available in a wide range of colors, slat sizes, tapes, decorative trims, cornices and more, our wood horizontals can coordinate perfectly with any room design or décor. Like fine furniture, wood horizontals are a pleasure to the senses. And ZBlinds prices are a pleasure to your pocketbook!
Ask our Design Consultant for more details.
Manufactured By: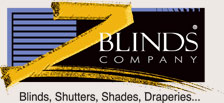 Offer ends March 31, 2018.