Geneva Vinyl 1″ Mini Blinds
Our new Geneva 1 inch Vinyl Mini Blinds are a contemporary style and affordable price. These chic blinds combine the look of an aluminum metal blind with the added durability of vinyl. These blinds are durable. Rest assured you have made the right choice with Geneva Vinyl Mini Blinds.
* Based on 1,800 sf. home w/8 or fewer windows. An average home with 12 windows.
Manufactured By: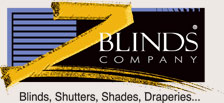 Offer ends March 31, 2018.