Faux Iron
Unlimited Possibilities for Windows and Doors.
Tableaux® Faux Iron
Tableaux® provides the look and feel of wrought iron without the weight, wait, or cost. Constructed out of 100% post-industrial recycled wood fiber and formaldehyde-free resin; Tableaux® is about 10% of the weight of conventional wrought iron – opening up limitless possibilities for doors, windows, ceilings, etc.
Windows
Take your windows from ordinary to extraordinary. Tableaux® is the perfect solution for transoms, sidelights and arches. Our lateral set screw system makes installation fast and easy. Other alternatives, such as our hinges and magnet sets, open a wider range of installation possibilities.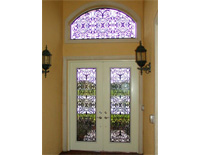 Doors
You only have one chance to make a first impression. Tableaux® inserts provide a personalized transformation to your entry, interior or cabinet doors. Our Z-clip hardware makes installation a snap. In addition, with our TableauxIG™ you can now create a lightweight insulated glass door.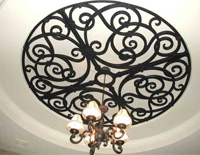 Ceiling
Make a statement without breaking the bank. Until now, the cost and weight of using traditional wrought iron was limiting. The light weight & practicality of the Tableaux® product lends itself to creating impressive custom ceilings. A choice of spacer lengths allow you to offset the product and create breathtaking shadows.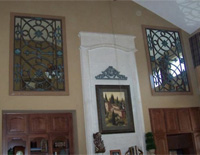 Walls
Dress up your niches or walls with exceptional decorative art made to your desired specifications. Personalize any space with a unique signature piece. Our direct set screw hardware allows for easy installation in any location, while the color matched caps keep the hardware hidden.
Other Applications
The versatile nature of Tableaux® invites its use in a variety of applications. Some of these uses include pass-throughs, headboards, screens, accents, frames, faux balconies, cornices, valances, grills, etc. We always welcome new challenges and look forward to helping you on your next project.
The Design
The versatility of the Tableaux® product allows you to obtain any design just as you envision it. We achieve this by extending the range of design possibilities way beyond what is depicted in our design catalog. All of the Tableaux® designs can be requested in virtually any shape or size. Simply provide your dealer with the dimensions or give them a template and our artists will craft the design to your specifications. Our artists welcome custom design projects. The nominal design fee has helped make this custom work affordable. We can complement the existing theme of your home or business by matching wallpaper, curtains, or fixtures. We can even incorporate logos, crests, or monograms into a design. Whatever you can imagine, our artists will work with you to make that vision a reality.
The Finish
Organic Finishes – The IA5, IA9, and BG6 finishes are considered organic finishes as they are based on natural chemical processes (e.g. oxidation). For these finishes, customers should expect some color variation vis-à-vis samples or pictures and an overall rougher texture.
Tableaux® ST Green
Go green! Appropriate for the majority of interior applications, our standard material is made from 100% recovered and recycled wood fibers and formaldehyde-free resin. This moisture resistant material is offered in three thicknesses: ¾" (used in most applications), ½" and ⅜".
Exterior Tableaux® EX
For outside or areas with very high humidity, we recommend the use of this water, rot, and termite resistant wood fiber material with no added formaldehyde. Though denser and coarser in texture than the ST or FR materials, the EX material is well suited for exterior applications. This material is offered in ¾" and ½" thicknesses.
Tableaux® FR Fire Retardant
Our fire retardant, wood fiber material with no added formaldehyde is the perfect solution for meeting fire Class 1 (A) standards in commercial applications. This material is offered in ¾" thickness only.
Insulated Glass Tableaux® IG
At less than 5% the weight of iron, our feather light closed cell polyurethane TableauxIG™ is engineered and tested to be insulated in glass without fogging. This material is offered in ½" thickness only and requires further work by a third party for its assembly into an IG unit.