Business Solutions
Communicate Your Style and Company Culture
Mecho Shade Systems
Since 1972, Mecho Shade systems has been an innovator for manual, motorized and automated solar shading and room darkening soultions. They are a leader in the development of motor controls, switches and accessories, adding a high degree of functionality, flexibility and value to ElectroShades® systems.
MechoSystems has developed a variety of systems and solutions that can interface with all lighting, A/V and building management control systems. The options vary from simple switches to the most sophisticated, user-friendly software-based systems.
MechoShades® Systems has also helped buildings increase their environmental, economic and energy efficiency. For example, their ThermoVeil® shade cloths filter the sunlight to lower solar heat gain while providing a view to the outside. Architects and designers have incorporated MechoShades' products in buildings that have been rated by the US Green Building Council's LEED Rating System. Projects have included chain operated manual shades, as well as fully automated ElectroShades, controlled by the AAC SolarTrac software.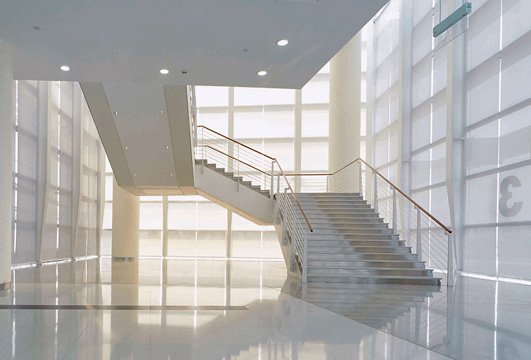 Why Shades?
Recent studies confirm that standard window glazings do not adequately protect occupants from heat gain, solar glare or high energy costs. There are many alternative window treatments available to keep occupants safe and comfortable, while enhancing energy efficiency. Which one should you work with?
MechoShades' "WHY SHADES?" presentation makes a strong case for why roller shades are the best choice. MechoShades works with the dynamics of the sun and various types of window glazing to filter out the radiant component of sunlight, while allowing maximum comfort, lower energy consumption and a clear view of the outside. No wonder MechoShades has earned the title, "The Architect's Choice."
Manual Shades
Chain-driven MechoShade® roller screens are part of the most comprehensive manual solar protection and room darkening system available. They feature a complete line of ThermoVeil® and EuroVeil® visually transparent sunscreens and room darkening shades, a full range of hardware options for manual shading featuring multi-band operation with one drive chain and our Lifetime Limited Warranty with 100% replacement and no depreciation over the life of the warranty.
Motorized Shades
ElectroShade provides the ideal solution for executive, conference and training facilities, as well as inaccessible high bay windows and public areas. Stylishly designed and reliably engineered, ElectroShade puts you in control of even the most challenging room environments. From state-of-the-art board rooms to 40-foot-tall exhibition areas, ElectroShade has the right solution for your needs.
Electronic Cards
MechoShade® has developed motor controls, switches and accessories to add a high degree of functionality, flexibility and value for your ElectroShades®. MechoShade has a variety of systems and solutions, which can interface with all lighting, A/V and building management control systems. The options vary from simple switches to the most sophisticated user-friendly software based systems.
Skylight Shades
We offer custom-tailored solutions for shading curved, sloping and horizontal windows common in skylight applications. Engineered with either an automatic or manual lift system, these shades are available in a variety of designs, including: flat, soft-fold, accordian-pleated, top-down and bottom-up configurations. Similarly, our Skylighter shades give you a great deal of control of sun, light and heat, and are available in horizontal, sloping bottom-up, rectangular, triangular and trapezoidal configurations.
Room Darkening
Many components and shadecloths for use with the MechoShade and ElectroShade systems are available, enabling partial or total blackout capabilities. Our Blackout Cassette Assembly is an all-in-one solution that is easy to install and available with either side or bottom channels. Plus, we offer your choice of custom-fabricated blackout shadebands of opaque all-vinyl and vinyl/fiberglass laminated materials. Everything you need to stay in the dark!
Shade Cloths
Woven from vinyl coated polyester yarns, ThermoVeil® and EuroVeil® shadecloths are available in a wide variety of weaves, patterns, colors and densities designed to match the daylight transmittance of the glazing and the glazing orientation. Used in recommended densities, ThermoVeil and EuroVeil provide a significant reduction in solar heat-gain and greater comfort from the radiant component of sunshine. No other roller shade manufacturer provides the extensive shadecloth options and performance that MechoShade does.